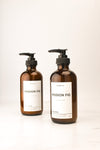 Mission Fig Hand Wash
Shipping calculated at checkout.
Fragrance Notes
Fig + Verbena + Cedar
UPDATED VEGAN FRIENDLY BASE

100% derived from saponified coconut oil, with no detergents added, it is quick to foam and produces a nice lather.

Harsh chemicals are typically used in making liquid soaps but this relies on the coconut oil to form a usable soap during saponification. This base is versatile, has already been diluted with 60% water and doesn't need to be diluted further to be used as a shower gel, face wash, hand soap, bubble bath or mixed into scrubs. This base is biodegradable.
Appearance: Clear, thin liquid with slight yellow tinge. Keep sealed as evaporation can cause evaporation and hardening into a thick paste.
pH: 8.0-9.0
Shelf Life: Minimum 1 year when stored sealed in a cool, dry place away from light
NOTE: Not recommended as-is for a shampoo since it might be drying. The addition of conditioning agents might be helpful, but stability tests would be needed to ensure the formula doesn't separate.
Country Of Origin: United States
Phthalates: Product is Phthalate Free
Helpful Product Information:
Alcohol Free: Yes

Cruelty Free: Yes

Formaldehyde Free: Yes

Gluten Free: Yes

Mineral Oil Free: Yes

Preservative Free: Yes

Soy Free: Yes

Vegan Friendly: Yes